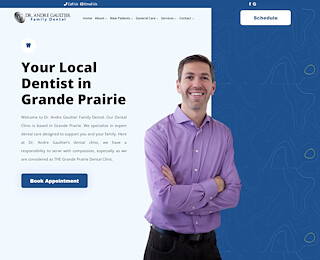 Dr. Gaultier Family Dentistry is currently accepting new patients, and as a family dentistry clinic, we accept patients of all ages. Give us a call today to get treated by a leading dentist in Grande Prairie. Here, we provide a large suite of dental services, including emergency dental care - something that few dental clinics offer!
At Dr. Gualtier Family Dentistry, our staff takes the stress out of going to the dentist, providing great dental care, low prices, and a family-friendly, welcoming environment. If you need a dentist in Grande Prairie, we invite you to give us a try. You won't be disappointed!
Comfortable Dentist's Office in Grande Prairie
From the receptionist to the dentist's chair, we want all of our patients to feel welcome and comfortable with us. We go out of our way to exceed our patients' expectations, and that is why Dr. Gaultier Family Dentistry is a favorite of many of our Grande Prairie neighbors. They know that we care about their oral health and hygiene.
How Important is the Dentist?
Regardless of your age, routine dental checkups are critical to the health and wellbeing of your teeth and gums. We recommend checkups every six months. Dentist visits at this frequency will allow us to monitor your oral health and detect problems before they become severe. The early detection of dental/oral conditions and cancers greatly increases our chances of fending them off and saving your teeth.
What Happens at the Dentist's Office in Grande Prairie?
During the standard dental checkup, we'll provide an oral examination, cleaning, and oral prophylaxis. We search for cavities, gingivitis, and other oral conditions. We may use also X-rays to get an accurate assessment of your oral health. During a checkup, we can also clean your teeth and scrape the tartar off, revealing your naturally white teeth again, reducing the bleeding in your gums, and giving you more confidence in your smile.
When to Bring a Child to the Dentist
If you have children, we encourage you to bring them in regularly for checkups. Instilling the importance of oral hygiene and dentist visits in children ensures that they will develop good oral hygiene practices that they will carry into adulthood. At Dr. Gaultier Family Dentistry, we go above and beyond to ensure that all children feel welcome and safe in our family clinic. We even have children's books and toys in our waiting area, and all of our staff is extremely kind and child-friendly.
We Educate Our Patients
In addition to providing a great atmosphere for dental care, Dr. Gaultier Family Dentistry also educates our patients of all ages. This way, they understand what we're doing to them, they understand why we're doing what we're doing, and they also know how to best care for their oral health and hygiene at home. With dental treatment, education truly is key!

If you would like to speak with a receptionist about how our dental clinic works, or if you would like to schedule your first appointment, give us a call. Dr. Gaultier Family Dentistry welcomes you in advance.
Dentist grande prairie